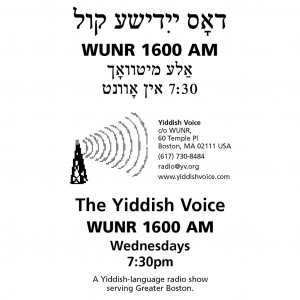 Elissa Bemporad (Bonus)
Show notes
Elissa Bemporad is the Jerry and William Ungar Associate Professor of East European Jewish History and the Holocaust at Queens College and the CUNY Graduate Center. She is the author of Becoming Soviet Jews: The Bolshevik Experiment in Minsk (Indiana University Press, 2013), winner of the National Jewish Book Award and of the Fraenkel Prize in Contemporary History. The Russian edition was recently published with ROSSPEN, in the History of Stalinism Series. She is currently finishing a book entitled Legacy of Blood: Jews, Pogroms, and Ritual Murder in the Lands of the Soviets, which will be published with Oxford University Press. Elissa is the co-editor of Women and Genocide: Survivors and Perpetrators (forthcoming with Indiana University Press in 2018), a collection of studies on the multifaceted roles played by women in different genocidal contexts during the twentieth century. She has recently been a recipient of an NEH Fellowship and a Fellowship at the Center for Advanced Holocaust Studies at the United States Holocaust Memorial Museum in Washington DC. In Spring 2018, Elissa will be a Distinguished CUNY Fellow at the Advanced Research Collaborative at the Graduate Center.
Sholem Beinfeld led these interviews with Professors Samuel Kassow and Elissa Bemporad, who, along with numerous other academic experts, will soon take part in the YIVO's conference JEWS IN AND AFTER THE 1917 RUSSIAN REVOLUTION, Sun/Mon Nov 5-6. See: https://yivo.org/1917
Bonus podcast: some of the interviews could not be included in the broadcast due to time limitations. This is a bonus podcast with material that could not be included in the original broadcast on Novermber 1, 2017.
Hosts
Guests